"We would love to welcome you at The Old Storehouse. We are a Traditional Irish Bar and Restaurant. In order to give all our customers the opportunity to eat at a time that suits then on a table of their choice we do not accept reservations. Simply arrive and you will be seated on the very next available table. There is rarely a wait but should it take a few minutes to prepare a table for you why not have a drink at our bar and listen to Live Traditional Irish Music"
Starters
Today's Freshly Prepared Soup with Herbs (v)
served with freshly baked spelt soda bread and Irish butter …  €5.95
West Of Ireland Seafood Chowder
served with freshly baked spelt soda bread and Irish butter …  €8.00
Golden Fried Breaded Mushrooms (v)
with garlic mayonnaise and baby leaf salad …  €7.95
Old Storehouse Chicken Liver Pate
with fruit chutney and toasted sourdough …  €8.95
Irish Smoked Salmon
served with caper, lemon and brown soda bread …  €9.50
Spicy Chicken Wings
served with Cashel Blue cheese dip and spring onions …  €8.95
Salads
Kale Caesar
shaved parmesan, cos, crispy bacon and Caesar dressing …  €12.95
Add Grilled Chicken …  €2.95
Goat's Cheese Salad
baby leaves, balsamic, beetroot, candied walnuts and pomegranate seeds …  €15.50
Mains
Irish Bacon & Cabbage
served with parsley sauce and mashed potato …  €15.95
Beer Battered Fish & Chips
served with mushy peas, lemon and chunky tartare sauce …  €15.95
Traditional Guinness & Irish Beef Casserole
with braised vegetables and buttered mashed potatoes …  €14.95
Old Storehouse Irish Beef Burger (8oz)
with cheese, pickles and relish on a toasted brioche bun …  €13.95
Grilled Chicken Burger Storehouse Style
marinated in herbs and olive oil with beef tomato and relish …  €13.95
West Of Ireland Seafood Chowder
served with freshly baked spelt soda bread and Irish butter …  €13.95
Spicy Chicken Wings
served with chips, Cashel Blue cheese dip and spring onions …  €13.95
Fresh Wild Mushrooms & Pasta (v)
in a cream and herb sauce …  €13.95
Aged Irish Sirloin Steak (10oz)
cooked to your liking and served with garlic butter or pepper sauce …  €21.95
Bangers & Mash
chef's pork sausages and creamy mash served with ale gravy …  €13.95
Steamed Fresh Connemara Mussels
in a cider cream with smoked bacon and garlic bread …  €16.95
Irish Cottage Pie
a wholesome beef and root vegetable pie topped with creamy mash served with baby vegetables …  €14.95
Side Orders
Garlic Bread …  €3.00
Skin On Chips …  €3.00
Creamy Mash …  €3.00
Roasted Baby Vegetables …  €3.50
Spelt Soda Bread …  €3.50
Baby Leaf Salad …  €3.50
Extra Topping …  €1.00
Desserts
Warm Chocolate Pudding …  €5.95
Apple Slice & Vanilla Ice Cream …  €5.95
Bailey's Cheesecake …  €5.95
Vanilla Ice Cream …  €4.50
White Wine
Served by the Glass €5.95 / Served by the Bottle €24.95
Elvaro Sauvignon Blanc, Chile
Wine of green-yellow colour with fresh aromas of citrus and tropical fruits, with a taste that is soft, generous and well balanced.
Cielo Pinot Grigio, Italy
Wonderfully refreshing popular grape variety, delicate flavours and clean notes with a lingering after taste of Artemisia flowers.
Elvaro Chardonnay, Chile
Wine of a yellow colour with aromas of mature pineapple and banana. It has a good body and acidity. It is well balanced and persistent.
Red Wines
Served by the Glass €5.95 / Served by the Bottle €24.95
Tolten Merlot, Central Valley
Blackberry colour with intense aromas of cherries and ripe strawberries. Rich fruity taste complemented by layers of caramel, spice and coffee with a warm lingering finish
Fortant Cabernet Sauvignon
This wine is purplish red in colour and features generous, complex nose and notes of blackberry jam and peppermint. Rich yet lively on the palate with pleasing flavours of black fruit and spice. Full finish.
William Hardy Chiraz
William Hardy Chiraz combines both to create this rich and generous wine, loaded with blackberry and plum flavours and balanced with subtle oak leading to a silky smooth finish.
Rosé Wine
Served by the Glass €5.95 / Served by the Bottle €24.95
Pinot Grigio Rosé, Ancora, Lombardy, Italy
Dry, fresh and fruity Rosé with delicate aromas of red
berries and a palate of lush summer fruits.
Coffee & Tea
Americano …  €2.50
Espresso …  €2.50
Tea …  €2.50
Green Tea …  €2.50
No Service Charge Included.
Allergens Regulation (EU) No. 1169/2011
If you would like to view a menu that clearly outlines a list of allergens contained in our dishes please ask your server.
All meat and poultry sourced locally from Egan's Meats – 100% Irish
(v) Vegetarian Option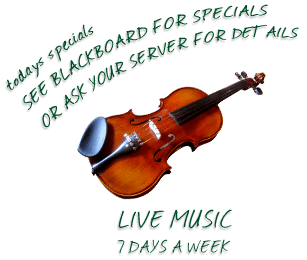 Gluten Free Menu
Starters
Today's Freshly Prepared Soup with Herb and Cream (v)
served without Irish soda bread …  €4.95
Smoked Salmon
served salad and horseradish dressing. No Irish soda bread …  €9.50
Crab Claws
served with garlic butter and side salad …  €10.95
Mains
West Of Ireland Seafood Chowder
served without Irish soda bread …  €13.95
Traditional Irish Guinness and Beef Casserole
with braised vegetables and creamy mash …  €14.95
Steamed Fresh Mussels
in a creamy white wine sauce served without garlic bread or chips …  €16.95
Aged Irish Sirloin Steak
cooked to your liking and served with salad, mashed potato and garlic butter or pepper sauce …  €21.95
Dessert
Homemade Vanilla Ice Cream …  €4.50
Side Dishes
Creamy Mash …  €3.00
Side Salad …  €3.00