"We would love to welcome you at The Old Storehouse. We are a Traditional Irish Bar and Restaurant. In order to give all our customers the opportunity to eat at a time that suits then on a table of their choice we do not accept reservations. Simply arrive and you will be seated on the very next available table. There is rarely a wait but should it take a few minutes to prepare a table for you why not have a drink at our bar and listen to Live Traditional Irish Music"
Starters
Today's Freshly Prepared Soup with Herbs
served with freshly baked soda bread and Irish butter (v) (1A,7,8,9) …  €5.95
Spicy Chicken Wings
served with Cashel Blue cheese dip and spring onions  (X) (3,7,9,12) …  €8.95
West Of Ireland Seafood Chowder
served with freshly baked spelt soda bread and Irish butter (1A,4,7,8,9,12) …  €8.95
Golden Fried Breaded Mushrooms
with garlic mayonnaise and baby leaf salad (V) (1A,3,10) …  €7.95
Salads
Kale Caesar
shaved parmesan, cos, crispy bacon and Caesar dressing (1A,3,4,7,10) …  €14.95
Add Grilled Chicken …  €2.95
Mains
Spicy Chicken Wings & Chips
served with Cashel blue cheese dip and celery sticks (X) (3,6,7,9,12) …  €14.95
Beer Battered Fish Bites & Chips
served with lemon and tartar sauce (1A,3,7,9,12) …  €17.95
Pulled Pork Blaa Burger
with coleslaw and BBQ sauce served with chips (1A,39,10,12,7,9) …  €15.95
Old Storehouse Irish Beef Burger (8oz)
with cheese, pickles and relish on a toasted brioche bun (1A,3,7,10,12) …  €15.95
Grilled Chicken Burger Storehouse Style
marinated in herbs and olive oil with beef tomato and garlic mayonnaise (1A,3,7,10) …  €14.95
West Of Ireland Seafood Chowder
served with freshly baked spelt soda bread and Irish butter (1A,4,7,8,9,12) …  €14.95
Fresh Wild Mushrooms & Pasta
in a cream and herb sauce (v) (1A,3,7,9) …  €14.95
Aged Irish Sirloin Steak (10oz)
cooked to your liking and served with garlic butter or pepper sauce (X,1,7,9,10) …  €24.95
Side Orders
Garlic Bread (1A,7) …  €4.95
Skin On Fries (X) …  €4.00
Beer Battered Onion Rings (1A,1B) …  €4.50
Soda Bread (1A,7,8) …  €3.50
Platters
Temple Bar Platter
chips, spicy chicken wings, beer battered onion rings and garlic bread served with a variety of dips (1A,1B,3,7,9,10,12) …  €20.00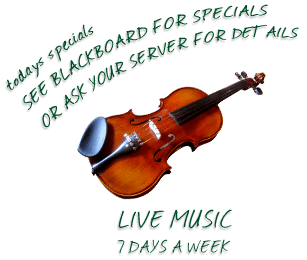 White Wine
Served by the Glass €6.95 / Served by the Bottle €25.95
Siete Soles Sauvignon Blanc, Chile
An excellent example of Sauvignon Blanc from Chile's Central Valley. This wine boasts flavours of tropical fruit and citrus on the palate and has a crisp and refreshing finish.
Truli Pinot Grigio, Italy
Bright and fresh with flavours of grapefruit and lemons which make this a very appealing and easy to drink wine.
Santa Luz Chardonnay, Chile
This wine is brilliant straw yellow in colour and features a generous nose with notes of nectarine and acacia. Round and balanced on the palate with lovely tropical fruit flavours and a long finish.
Red Wine
Served by the Glass €6.95 / Served by the Bottle €25.95
Le Olivier Merlot, Languedoc, France
There is nothing shy about this wine, so prepare for flavours – big ones at that! This French Merlot is laden with aromatic plum and cassis fruits, and a hint of chocolate just as the sip goes down.
Nuviana Tempranillo Cabernet, Spain
A seductive ruby-red with a gold touch, a silky-smooth wine with sweet tannins, a touch of chocolate and deliciously lingering finish.
Los Tilos Cabernet Sauvignon, Chile
A gorgeous full-bodied Red from the sunny vineyards of Chile, with layers of cassis and black cherry fruit, together with a delicious hint of coffee and dark chocolate.
Rosé Wine
Served by the Glass €6.95 / Served by the Bottle €25.95
Oliver & Greg Pinot Grigio Blush, Italy
A light and refreshing rosé, with fresh cranberry and raspberry notes on the nose. On the palate the wine is crisp with some citrus flavours coupled with a core of red fruit such as Strawberries. Lovely and easy drinking.
Sparkling

Served by the snipe €8.95 / Served by the Bottle €32.95
Maschio Dei Cavaliere Prosecco Frizzante, Treviso, Italy
Prosecco is lively and crisp with delightful flavours of pear and peach. Light straw yellow in colour with fine and persistent bubbles.
Maschio Dei Cavaliere Prosecco Frizzante Snipe 200ml, Treviso, Italy
This sparkling wine has fi ne bubbles winding through its bright straw yellow colour and greenish reflections.
Coffee & Tea
Americano …  €3.00
Cappucino … €3.25
Espresso …  €3.00
Double Espresso …  €3.75
Espresso Macchiato …  €3.25
Iced Latte Macchiato …  €3.50
Tea …  €3.00
Green Tea …  €3.00
No Service Charge Included.

Allergen Information

Allergens Regulation (EU) No. 1169/2011
1. Gluten, A Wheat, B Barley, C Rye, D Oats| 2. Crustaceans | 3. Eggs | 4. Fish | 5. Peanut | 6. Soy beans | 7. Milk | 8. Nuts, A Almonds, B Hazelnuts, C Walnuts, D Pistachio | 9. Celery | 10. Mustard | 11. Sesame Seeds | 12. Sulphites | 13. Lupin | 14. Molluscs
(v) Vegetarian Option
(X) may not contain gluten but will have come into contact with it during the cooking process.
All meat and poultry sourced locally from Egan's Meats - 100% Irish
The Old Storehouse
3 Crown Alley,
Temple Bar,
Dublin 2,
Ireland.
D02 CX67
+353 1 604 4003