"We would love to welcome you at The Old Storehouse. We are a Traditional Irish Bar and Restaurant. In order to give all our customers the opportunity to eat at a time that suits then on a table of their choice we do not accept reservations. Simply arrive and you will be seated on the very next available table. There is rarely a wait but should it take a few minutes to prepare a table for you why not have a drink at our bar and listen to Live Traditional Irish Music"
Today's Freshly Prepared Soup with Herbs
€5.95
Served with freshly baked spelt soda bread and Irish butter (v) (1A,7,8,9)
West Of Ireland Seafood Chowder
€8.95
Served with freshly baked spelt soda bread and Irish butter (v) (1A,4,7,8,9,12)
Golden Fried Breaded Mushrooms
€7.95
With garlic mayonnaise and baby leaf salad (V) (1A,3,10)
Served with capers, lemon and spelt soda bread (1A,3,4,10,12)
Spicy Chicken Wings
€8.95
Served with Cashel Blue cheese dip and celery sticks (X) (3,7,9,12)
Shaved parmesan, cos, crispy bacon and Caesar dressing (1A,3,4,7,10)
ADD GRILLED CHICKEN … €2.95
Goat's Cheese Salad
€14.95
Baby leaves, balsamic, beetroot, candied walnuts and pomegranate seeds (7,8C,12)
Spicy Chicken Wings & Chips
€14.95
Served with Cashel blue cheese dip and celery sticks (X) (3,7,9,12)
Beer Battered Fish & Chips
€17.95
Served with mushy peas, lemon and tartar sauce (1A,3,4,10,12)
Old Storehouse Irish Beef Burger (8oz)
€15.95
With cheese, pickles and relish on a toasted brioche bun (1A,3,7,10,12)
Grilled Chicken Burger Storehouse Style
€14.95
Marinated in herbs and olive oil with beef tomato and garlic mayonnaise (1A,3,7,10)
Traditional Guinness & Irish Beef Casserole
€15.95
With braised vegetables and buttered mashed potatoes (1B,7,9)
West Of Ireland Seafood Chowder
€14.95
Served with freshly baked spelt soda bread and Irish butter (1A,4,7,8,9,12)
Half lb. of Atlantic scampi with lemon mayo and salad (1A,2,3,7)
Fresh Wild Mushrooms & Pasta
€14.95
In a cream and herb sauce (v) (1A,3,7,9)
Aged Irish Sirloin Steak (10oz)
€24.95
Cooked to your liking and served with garlic butter or pepper sauce (X,7,9,10)
Chef's pork sausages and creamy mash served with gravy (1A,6,7,9,10,12)
Steamed Fresh Connemara Mussels
€17.95
In a cider and smoked bacon garlic cream with garlic bread (1A,7,12,14)
A wholesome beef and root vegetable pie topped with creamy mash served with baby vegetables (7,9)
Garlic Bread (1A,7)
€4.95
Spelt Soda Bread (1A,7,8)
€3.50
Beer Battered Onion Rings (1A,1B)
€4.50
Baby Leaf Salad (10)
€5.95
Roast Baby Vegetables (GF)
€4.50
Extra Toppings / Sauces
€1.50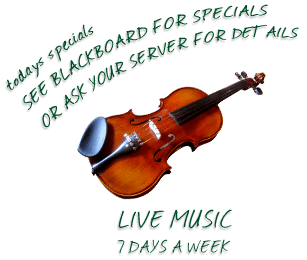 Warm Chocolate Pudding
€5.95
 With vanilla ice cream  (1A,6,7,8,A,B,C,D)
Espresso Macchiato (7)
€3.25
Iced Latte Macchiato (7)
€3.50
Check out our platters and finger food options
White Wine
Tini Trebbiano, Chardonnay, Italy
Flavours of white pear and zingy lemon give way to a  crisp finish of this intense yet fresh wine.
Chilensis Sauvignon Blanc, Chile
Dry but well-balanced on the palate, with good intensity.  Displays intense and aromatic hints of fresh fruit.
Sonetti Pinot Grigio, Italy
A nice fresh wine with crisp fruit flavours of citrus and  ripe apples.
Gravel & Loam Sauvignon Blanc, New Zealand
A zingy refreshing dry white wine with gooseberry, herbs,  melon and lime citrus notes on the nose and the palate.
Red Wine
Sierra Salinas Bobal, Tempranillo, Spain
Rounded and well structured, this is an appealing wine in  which the hints of red fruit stand out and persist on the  palate.
Camino del Rey Cabernet Sauvignon, Chile
A 'classic' Chilean Cabernet Sauvignon; easy drinking in style and packed full of red fruit and sweet spice flavours.
Saint Marc Reserve Merlot, France
Generous and supple wine with silky tannins. Intense aromas of red fruits and spices.
Santa Anna Malbec, Argentina
Well-balanced in the mouth, soft and nice finish, with  intense aromas of fruits such as plums and cherries.
Muriel Rioja Crianza, Spain
Elegant and soft, aromas from the ageing combined with  red fruit notes and liquorice. Tasty, clean and very pleasant.
Rosé Wine
Sierra Salinas Rosé, Spain
Fresh, fruity and balanced, smooth and with a long finish,  notes of strawberries and fresh cream.
Sparkling
Masottina Prosecco, Italy
A peppy and elegant, with a fine, persistent perlage. It has a fruity hit of fresh citrus with floral notes, which combine to create a light, pleasant flavour perfect for social occasions and intimate moments alike.
Colle Del Principe Prosecco 200ml, Italy
A sparkling, elegant, dry Prosecco with flavours of lemon, pear, apple and floral hints.

Allergen Information

Allergens Regulation (EU) No. 1169/2011
1. Gluten, A Wheat, B Barley, C Rye, D Oats| 2. Crustaceans | 3. Eggs | 4. Fish | 5. Peanut | 6. Soy beans | 7. Milk | 8. Nuts, A Almonds, B Hazelnuts, C Walnuts, D Pistachio | 9. Celery | 10. Mustard | 11. Sesame Seeds | 12. Sulphites | 13. Lupin | 14. Molluscs
(v) Vegetarian Option
(X) may not contain gluten but will have come into contact with it during the cooking process.
All meat and poultry sourced locally from Egan's Meats - 100% Irish
The Old Storehouse
3 Crown Alley,
Temple Bar,
Dublin 2,
Ireland.
D02 CX67
+353 1 604 4003
Kitchen Hours
7 Days ..... 12pm - 9pm