WE WOULD LOVE TO WELCOME YOU TO THE OLD STOREHOUSE, TEMPLE BAR, DUBLIN D02CX67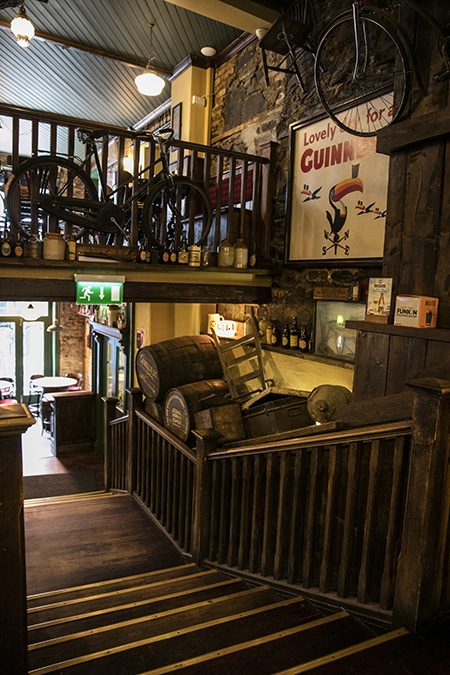 We are a classic Irish Bar located in the heart of Dublin's Cultural Quarter at 3 Crown Alley, Temple Bar, Dublin 2. This location is between Dame Street and The Halfpenny Bridge directly behind the Old Central Bank building. We pride ourselves on the warmth of the welcome we extend to all, together with our quality food and drinks service. You may find it helpful to navigate here using our Postcode/Eircode D02CX67. We have 3 bar options ranging from a quiet and intimate snug bar, a lively main bar with live music sessions and our venue bar O'Flaherty's at The Old Storehouse. In addition we have a covered smoking area.
OPENING HOURS
WE ARE OPEN SUNDAY TO THURSDAY FROM 12PM – 12AM
FRIDAY FROM 12PM – 1AM
SATURDAY FROM 12PM – 2AM
KITCHEN OPENING HOURS
MONDAY TO SUNDAY FROM 12PM – 9PM
LIVE MUSIC
SUNDAY TO THURSDAY FROM 3PM – CLOSE
FRIDAY & SATURDAY 2PM – CLOSE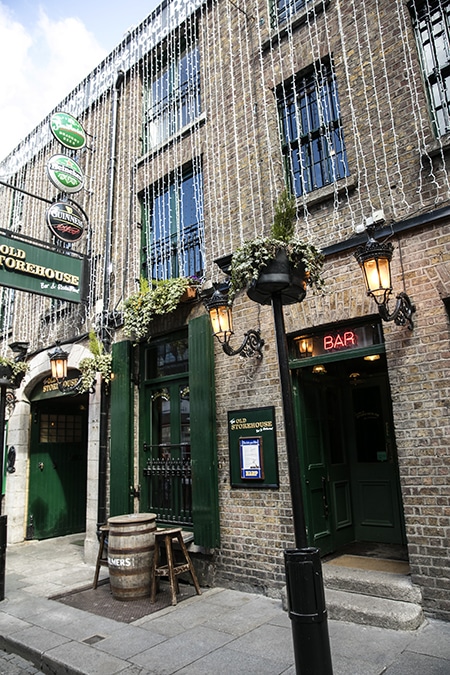 White Wine
Tini Trebbiano, Chardonnay, Italy
Flavours of white pear and zingy lemon give way to a  crisp finish of this intense yet fresh wine.
Chilensis Sauvignon Blanc, Chile
Dry but well-balanced on the palate, with good intensity.  Displays intense and aromatic hints of fresh fruit.
Sonetti Pinot Grigio, Italy
A nice fresh wine with crisp fruit flavours of citrus and  ripe apples.
Gravel & Loam Sauvignon Blanc, New Zealand
A zingy refreshing dry white wine with gooseberry, herbs,  melon and lime citrus notes on the nose and the palate.
Red Wine
Sierra Salinas Bobal, Tempranillo, Spain
Rounded and well structured, this is an appealing wine in  which the hints of red fruit stand out and persist on the  palate.
Camino del Rey Cabernet Sauvignon, Chile
A 'classic' Chilean Cabernet Sauvignon; easy drinking in style and packed full of red fruit and sweet spice flavours.
Saint Marc Reserve Merlot, France
Generous and supple wine with silky tannins. Intense aromas of red fruits and spices.
Santa Anna Malbec, Argentina
Well-balanced in the mouth, soft and nice finish, with  intense aromas of fruits such as plums and cherries.
Muriel Rioja Crianza, Spain
Elegant and soft, aromas from the ageing combined with  red fruit notes and liquorice. Tasty, clean and very pleasant.
Rosé Wine
Sierra Salinas Rosé, Spain
Fresh, fruity and balanced, smooth and with a long finish,  notes of strawberries and fresh cream.
Sparkling
Masottina Prosecco, Italy
A peppy and elegant, with a fine, persistent perlage. It has a fruity hit of fresh citrus with floral notes, which combine to create a light, pleasant flavour perfect for social occasions and intimate moments alike.
Colle Del Principe Prosecco 200ml, Italy
A sparkling, elegant, dry Prosecco with flavours of lemon, pear, apple and floral hints.
The Old Storehouse
3 Crown Alley,
Temple Bar,
Dublin 2,
Ireland.
D02 CX67
+353 1 607 4003
Kitchen Hours
7 Days ..... 12pm - 9pm